Quotes Corner - a useful resource for anyone
Find quotes giving past and current thinking to inspire, make you think differently, or simply help you get through the day!
Phil Harding collects quotes and quotations. This has been since his former official role working for HM Government writing speeches for Ministers, and for presentations, articles, books, promotional material, and editing websites. Phil adds new quotes continuously and freely shares them with you here.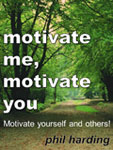 "Small but powerful"..."uplifting"...
"immensely enjoyable"...

You can obtain your copy of
"Motivate me, motivate you" here.
Comments received from users of quotes corner:
some of the most inspiring quotes that I have seen
- Consultant, East Sussex
a great additional resource - Eco Publisher and Campaigner, London
an excellent source of quotes. I shall be regularly digging into this resource
- Sales & Marketing Manager, Exeter
such a great place to be - Local radio station presenter, Buckinghamshire
some interesting quotes there I shall use
- leading sustainable business entrepreneur, South Africa
Inspired by some of the quotes featured?
The philharding.net network can provide class-leading management solutions for your business or organisation.
"Quotes Corner" receives many 100s of visits daily from across the world. Contact us if you are interested in placing an advertising link on these pages.

2,481 quotes & quotations listed under these topics:-
Sustainable development, climate change, population & sustainability in general - definitions, comments, reasoning, etc
Nature and the natural environment - our survival and quality of life depends on a healthy natural environment
Sustainable business, management & economics - essential good business sense for the modern world
People matter too
- more than anything else
Wisdom & wit
- visit this page & make yourself happier!
FEATURE ITEM: Stats & Facts - on energy, waste, food, population - interesting examples to get you thinking...

'We are living on this planet as if
we had another one to go to'
Terri Swearingen
'If you've heard this before don't stop me
because I'd like to hear it again'
Groucho Marx